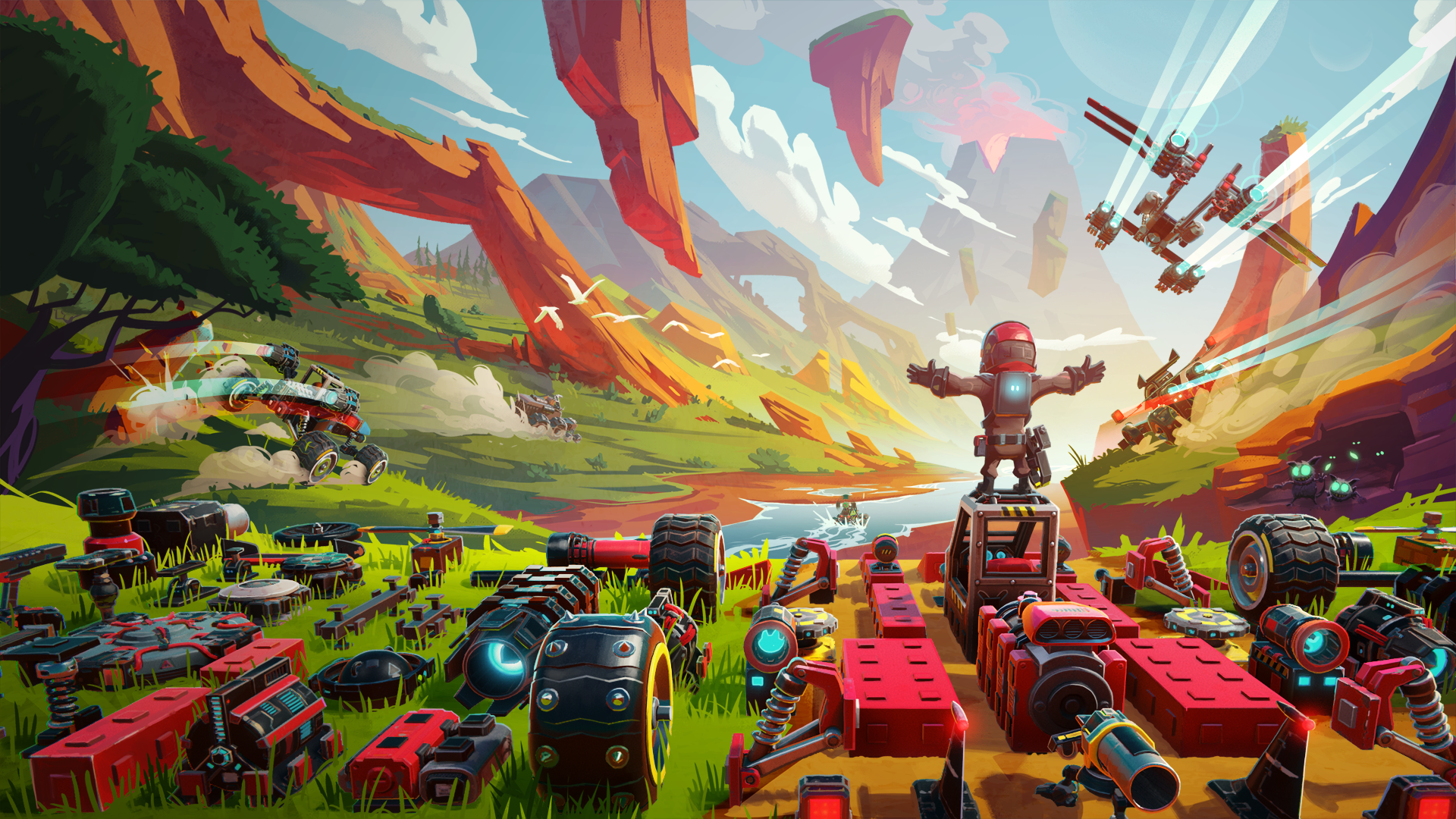 TRAILMAKERS 1.0 FULL UPDATE NOTES
The 1.0 update is the biggest and greatest update to Trailmakers we have ever made. For returning players, it will feel both familiar and like a brand new game as we have added tons of new blocks and a brand new massive campaign. For new players, it has never been easier to get into Trailmakers with better tutorials and help menus. From the whole Trailmakers Team, we really hope you enjoy it!
GENERAL
NEW CAMPAIGN – STRANDED IN SPACE

On your way to deliver a not-so-precious cargo of Space trash, you are hit by an asteroid and stranded on an alien planet. You must explore the planet and recover the space trash. Each part you salvage can be used to build new means of transportation and ultimately a spaceship that can bring you back into orbit and home again.
You collect the lost salvage and unlock new blocks by delivering it to the Recovery Drones. This is not always easy as the salvage can be stuck in holes, at the bottom of the sea or even highly explosive!
To help you recover the salvage, we have added a new block to the game: The Electromagnet. After you find this block in Stranded in Space, salvaging will be a lot smoother. You can read more about this block in the New Blocks section of the update notes.
There are new ways to earn coins, that you can spend on accessory blocks. If you find a Nugget Thief make sure to chase them down and take their gold.
There is an unprecedented amount of new wildlife and fauna to find on the planet in Stranded in Space. Explore above and beneath the surface to find them all.
Unlike the old Expedition game mode, Stranded in Space is available as a MULTIPLAYER mode in its entirety. Your progress carries over if you join a multiplayer game, and you can collaborate to recover some of the trickier salvages.

The TRANSFORM FEATURE is back!
With the push of a button you can transform between different vehicle you have made (or downloaded). PC Players assign the vehicles they want to transform to by hovering over the blueprint and pressing a number from 1-4. You can transform while driving by pressing ALT+1-4. Xbox Players can use the D-pad while hovering over a blueprint, and transform in-game by pushing LB+D-pad.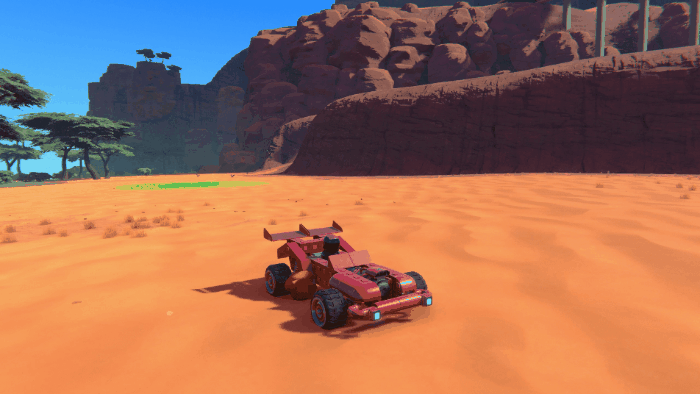 We have added some very satisfying Water Splashes and foam effects for all you sailors out there!
There are now a series of Steam and Xbox Achievements you can complete if you're a real completionist!
We have added more template vehicles – premade vehicles by the Trailmakers developers. You can find them in the builder menu next to your saved blueprints.
The First Person camera view is now much nicer. You can access it on PC by cycling through the camera angles by pressing C, and on Xbox by pressing down the right stick.
There is a new camera angle called Helicopter Chase camera. We have added it as a great angle when you are piloting helicopters or drones. You can access it on PC by cycling through the camera angles by pressing C, and on Xbox by pressing down the right stick.
Due to some engine tweaks (see the Blocks section), we have changed some things in the Trailmakers Rally mode AND on Race Island. This includes:

New Bronze, Silver and Gold ghosts on most tracks.
New instruction vehicles.
Many track tweaks like more tarmac.

Now, you can also teleport to another race track while in the builder by opening the map. All these changes will of course mean a leaderboard reset.
The player's Visor opens up when out of seat.
Changed the Chat Font – goodbye Comic Sans, you will not be missed.
The soccer field in the Sandbox map is much more professional.
PERFORMANCE
Please note that your graphics settings might have been reset in this update. Go to preferences, and select your preferred graphics settings again – sorry for the inconvenience.
Loading times have been vastly improved across the board.
A great many textures have been optimised.
There are new minimum quality setting for potato PCs.
Maps now have greater details.
BUILDER
We have continued our work to make the Trailmakers builder intuitive and informative. Here are the changes to the builder in 1.0:
You can now toggle the arrows that indicate the aerodynamic properties of your vehicle on and off.
We have added a Complexity indicator to warn you when your vehicle is nearing the complexity limit.
Many blocks now have a "Show Advanced" toggle in their configuration menu. If you are missing some block options that used to be there, remember to toggle the advanced view.
We have added an info window when you hover over blocks with the cursor. It shows the name of the block, the weight and the keybindings (if applicable).
There's a brand new Help Menu available from the top right of the builder or from the Escape Menu. Here you can find quick images and videos explaining basic concepts in Trailmakers like aerodynamics, Power Cores, controls and more.
The builder UI has been redesigned completely.
When you open the builder you will notice an arrow on the ground. We recommend you build your vehicle facing in this direction. It makes the aerodynamic arrows match, makes sure other vehicles you transform to are pointed in the same direction, and aligns many blocks in the right direction when pulling them out of the inventory.
The game will attempt to auto save your creation if the server crashes or shuts down while you are in build mode.
Increased the cursor speed when using a controller in the builder.
Blocks now become opaque when rotating or coloring in the builder.
You can now build underwater!
We have removed the 'Favorites' category of blocks and added one with Lights.
There is now a Lights category in Blocks AND one in Accessories. The Lights in Blocks are free, the ones in Accessories are purchased with coins.
Armor plates have been moved from the Gadgets category to the Frames category.
BLOCKS
The Electromagnet attracts or rejects magnetic objects when you activate it. This is configurable. Many objects in the game have been made magnetic.
The Spaceship Seat is a brand new seat designed for the Spaceship in the new game mode, Stranded in Space. It is immediately available in all Sandbox modes.
You can finally sail your boat in style with a proper Ship's Wheel.
Snow not included.
The Bulldawg, RAW and Dragon Engines have been reworked. The diminishing returns when using several of the same engine is now less noticeable.
The Spinning Servo and Helicopter Engines have received some big changes. The curve of the speed configuration has been normalised – previously there was virtually no difference between 6 and 10. The new top speed (10) is a little higher than before, while the new 6 is slower than the old 6. The new servos will also feel more like they are applying a certain amount of force rather than trying to spin at a certain speed. This will be evident when you try attaching something light to them – it will spin faster than when you adjust something heavy. If you have vehicles that rely on these servos, you might want to readjust their configurations.
NEW ACCESSORY BLOCKS:

Rainbow Maker
Bubble Maker
Mad Science Block
Swine Hood
Snake Hood
Hound Hood
Periscope
Rib Cage Pipes
Stop Sign
Yellow Neon
Wind Sock
Wind Propeller
Wood Bumper
Swirling Rim
Fidget Rim
Sun Rim
Many Accessories have had their coin price changed.
The Propeller AND the Underwater Propeller now have a keybind for going in reverse. You can assign this in the configuration menu on the individual block.
Many Aerodynamic blocks have been changed from having block colliders to mesh colliders. In practice, this means it is much more smooth to build a ramp and drive on it for example.
All Aerodynamic blocks have received new weight values – now properly based on science and stuff.
Some blocks have had their aerodynamic values adjusted.
We have added three new trophies for repeating winners of the Weekly Challenge (more info: https://www.playtrailmakers.com/weekly-challenge)
BUG FIXES
The horn will no longer keep blaring when you respawn.
Fixed some memory leaks.
Light in the blueprints category is now consistent.
Light in blocks category is now consistent.
Fixed uneven ground warning when ground is not uneven.
Fixed aerodynamic arrows not showing in multiple cases.
Fixed some seats spawning 90 degrees rotated.
Fixed camera anchor point issues.
Fixed glitchy camera movement during repair.
Fixed birds hovering above ground in some situations.
Fixed builder inventory appearing empty when going between tracks in rally.
Fixed camera spinning out of control when rotating while assigning input in the configurator.
Fixed values in configurator not saving correctly if using the slider.
Fixed the ramp.